So ive made it for LA trip round one! Interestingly enough, I have never been here until now! And I'm moving here! Haha. But I'm here for the next week to get my apartment set up for the big june cross country trek!

And at this very moment, I'm sitting at Babycakes LA, eating a GLUTEN FREE cranapple toastie & coffee. Oh I am in heaven! And
Monday, I'll find out about working here. Fingers crossed!



Though I have to say, so far, I am completely in love with Santa Monica y'all! It's divine! (below is the view of the pacific from the 3rd St Promenade…down from there is the famous ferris wheel)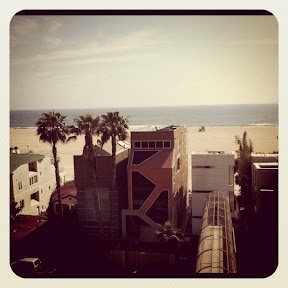 Anyway, on my way to visit the famous Venice Beach in a few to maybe rent a pair of rollerblades & hit the pavement!
I am smitten.
More later from the entertainment capital of the world.
- Posted on-the-go by yours truly